Why were Scotland so terrible in attack against Israel?
If Thursday night's victory proved anything to Steve Clarke it was just how fine a line stands between success and failure for a football manager.
Following a truly soul-crushing 120 minutes of football against Israel and then a surprisingly euphoric penalty shoot-out, the Scotland national team manager can now point to six games unbeaten and a truly remarkable shot at reaching a major international tournament for the first time in over 20 years.
Yet, before we all get a little too excited about what's to come, it's perhaps worth looking back at what went wrong on Thursday night. Sure, Scotland eventually won the game but before that was a whole lot of, well, nothing. Particularly in attack.
The first issue with Scotland's attack against Israel on Thursday night was the fact that Steve Clarke picked a formation that relied on the full-backs to attack with a tenacity and consistency that neither Stephen O'Donnell or Andy Robertson offered.
O'Donnell, most likely picked after injuries to James Forrest and then Liam Palmer, offered almost nothing going forward over the course of the match. The Motherwell defender didn't make a single successful dribble, made just 14 completed passes (only five into the final third) and not a single successful cross into the Israeli box.
Robertson wasn't as bad. The Liverpool full-back was clearly the focal point of Scotland's efforts to get the ball up the park - his 65 touches of the ball on the night was almost twice as much as the second most touches from a Scotland player - but the left-backs reluctance to get up the park hampered all attacking attempts from the team.
---
---
To put some context into Robertson's problems with positioning, let's look at his touches for Liverpool and for Scotland. As we can see from the heat map above, Robertson routinely gets much further up the park for his English Premier League side and as such receives passes when he's already in the final third. On Thursday night, we instead saw a full-back that seemed to get a nose bleed every time he stepped over the half-way line.
Whether this was an overly cautious tactical decision by Clarke or a more complicated mental imposition for Robertson due to the ever-increasing responsibilities and pressure of being the Scotland captain, it meant the national team's one, obvious route up the park was probably playing 20-30 feet deeper than he should have been.
However it wasn't all Robertson or O'Donnell's fault. For example, we should probably address the decision to play Ryan Jack in midfield. Jack has proven his worth at Rangers over the last two seasons, but it's unlikely that the No.8 was likely to start for Scotland against Israel ahead of the numerous call offs through injury and infections.
As I speculated on this week's extra podcast right after the game, it would have made sense for Clarke to move Scott McTominay back to the centre back position after Kieran Tierney and Scott McKenna were both ruled out. And, with Ryan Christie and Stuart Armstrong both missing, Clarke essentially had two options: the more attack-minded Kenny McLean or a safe pair of hands in Jack. And he clearly opted for the latter.
Jack was fine in his usual combative, defensive role at the base of midfield but the Rangers midfielder was never really asked to make runs up the park to support the front two strikers and that compounded an overall issue with this midfield trio over the course of the game.
---
If we look at the pass graphic above, which shows the most common route of passes over the course of the game by the boldness of the black line between two players, we can see that John McGinn tended to place himself just in front of Jack, but Callum McGregor drifted out left for more space.
Indeed, the most common pass combinations over the course of the game involved Liam Cooper, Robertson and McGregor. Yet, as we can see, McGregor didn't make a huge amount of passes forward. In fact, just 14 of the 53 passes he completed on the night counted as forward passes and his four passes into the final third over the 120 minutes is far fewer than the 13.66 he's averaging per game for Celtic this season.
Of course, that's not all McGregor's fault. As we've already touched upon, Robertson was pretty reluctant to bomb down the left flank, leaving McGregor to pick out two isolated target men or simply pass the ball backwards. Which is often exactly what he did.
Due to neither full-back pushing forward, Jack sitting deep as a defensive midfielder and McGregor drifting out left and trying to play a deep-playmaking role, it meant McGinn was left with the sole responsibility of supporting the strikers. And, naturally, that's just far too much to ask of a single midfielder.
---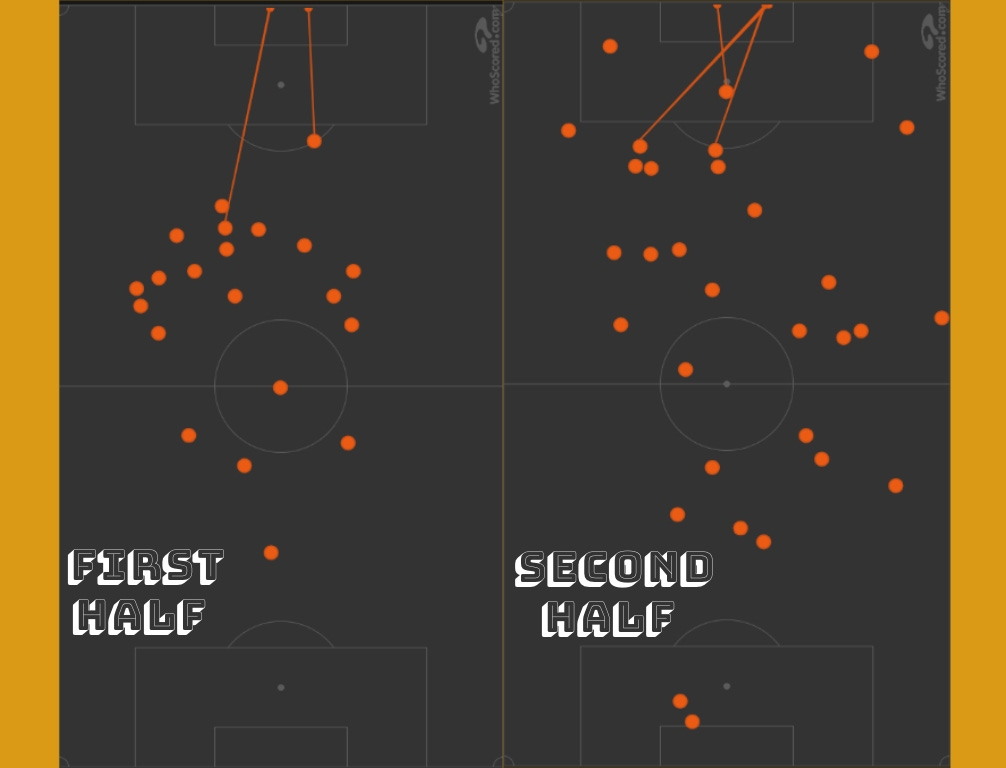 ---
The graphic above shows McGinn's touches of the ball in the first and second (including extra time) halves and immediately we can see that the Aston Villa midfielder was far more reserved and stuck to holding his position in the opening stages of the game, only to then start roaming the pitch in an attempt to find a late winner.
However, despite his best efforts, McGinn was never able to meaningfully link up with either Lyndon Dykes or Oli McBurnie. Over the course of the game the Villa box-to-box midfielder made or received just eight passes from both forwards. Which, as you can imagine, didn't lead to that many chances in front of the Israeli goal.
The debate over McBurnie's use for Scotland is unquestionably a contentious one but Thursday night's game was yet another example of the striker's complete and utter isolation from the rest of the team over the course of the game.
If that seems like an unfair defence of the player, it's worth considering that the Sheffield United player touched the ball just 10 times before he came off in the 73rd minute. Dykes, similarly, made just 19 touches before he too was pulled off in the 91st minute. To put that into context, the Israeli forward - Eran Zahavi - made 50 touches over the course of the game and Munas Dabbur - who was on the pitch for around 37 minutes - made 26 touches.
It would be one thing to suggest that McBurnie (or Dykes) squandered numerous chances and were routinely caught in possession but the truth is that neither received anywhere near enough support to do anything. And, on the rare occasion that they did, they had no overlapping full-backs or midfielder runners to pass to.
Although Scotland were quite accomplished in their defensive strategy - Israel were limited to an xG figure of just 0.15 - they also struggled to create any real chances at all for themselves. And, most worringly for Clarke, it seems to be an issue that can't be blamed on one position or poor individial performance.